Discover more from Saratoga Living After Hours
What happens in Saratoga—well, you know the rest.
Over 2,000 subscribers
Vibe Check: The Saratoga Motorcar Auction VIP Lounge
Plus deets on (and pics from!) our Post-Track Tranquility Party and Franklin Community Center's 40th anniversary celebration.
Saratoga Living had a vision: The exciting Saratoga Motorcar Auction needed a VIP lounge—somewhere to grab a drink and a snack and maybe hang out for a while between bidding. After a few years of dreaming about it, we finally launched our VIP experience last year. This year? It was an integral part of the festivities, which went off without a hitch thanks to the Museum's executive director, Megan Hennessey. In the lounge we served coffee and tea, pasta, chicken sandwiches and salad, and wine—lots of wine.
And when two sets of wine pourers didn't show up, the magazine staff rolled up our sleeves and got behind the bar.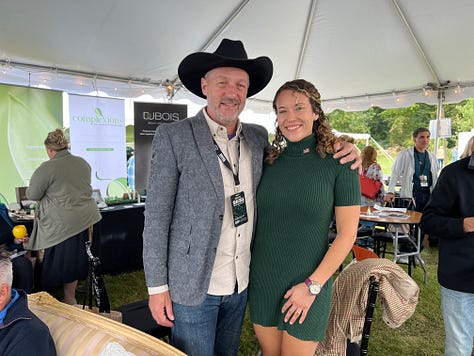 We got to know people who came to Saratoga from all over for this amazing Saratoga Automobile Museum fundraising event—Texas, Las Vegas, a few places in Florida. Friday night we were slammed, as happy consigners lined up for Mionetto bubbly and Freixenet wines, and as much delicious food as West Ave Pizza could dish out. Saturday morning brought overcast skies (but no rain, hallelujah), coffee by Tierra Farms, tea by Harney & Sons, and mimosas, served in jaunty (and sturdy) yellow cups perfect for sipping vino poolside—which made them a collector's item, especially for the Florida folks.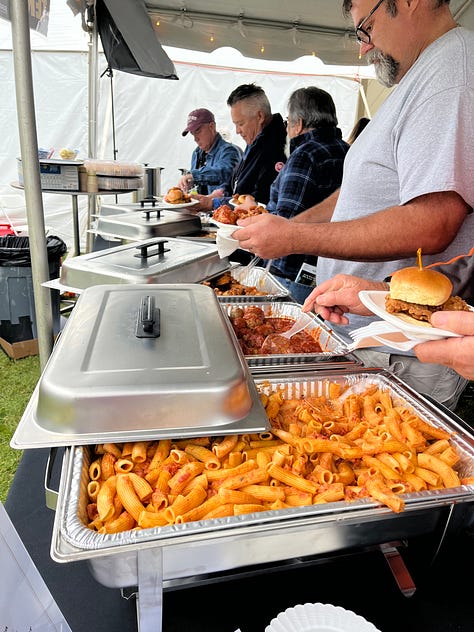 "Do you have a bag? I've collected six!" said one fan. "These look like lemons!" said another. "I hope there aren't any lemons out there!" she added, laughing and waving at the cars set for auction. We served classic mimosas with OJ, as well as ones made with Lakeside Farms apple cider and cinnamon sticks (the perfect way to wash down the store's delicious cider donuts), in honor of it being the first day of fall. "Make this one especially strong," said one guy as he held out a yellow cup for a refill. "It's making my wife happy." "Don't make mine too strong," said a second guy. "I don't want it to affect my bidding!" As blisters formed on my hand and index finger from popping open bottles of prosecco, I found time for a piece of West Ave Pizza's magical breakfast pizza. And then I started begging for people to switch to white wine, which came in screw-top bottles.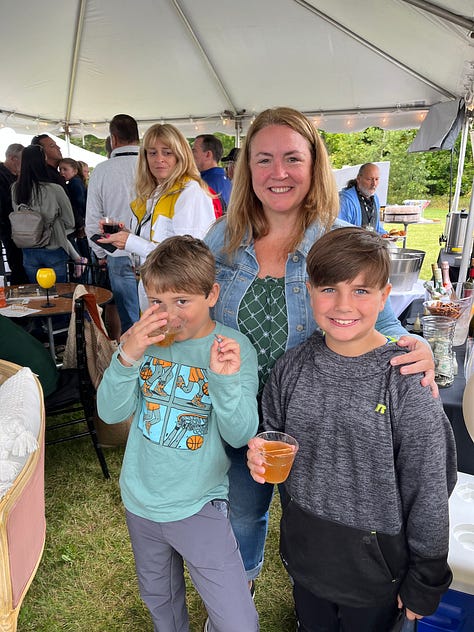 By the time West Ave brought lunch, the tent was rocking, and the non-stop bidding was going at high-octane levels. A 1971 Ferrari 365 GTC4 showpiece—built for the Prince of the Netherlands—went for a whopping $308,000, and the yellow 2004 Lamborghini Gallardo show-stopper went for an even $100,000. Missed the action this year? Start fueling up now for next fall—see you there! 
—Abby
---
Vibe Check: Post-Track Tranquility
If you Saratoga summered as hard as we did, chances are you needed a bit of a post–racing season reset. This past Tuesday, Saratoga Living teamed up with Dubois Beauty, BARE Blends and Golden Garden Parties to offer Saratogians just that.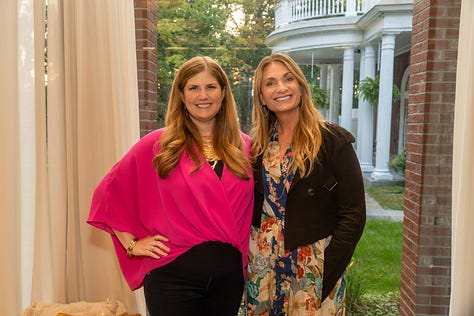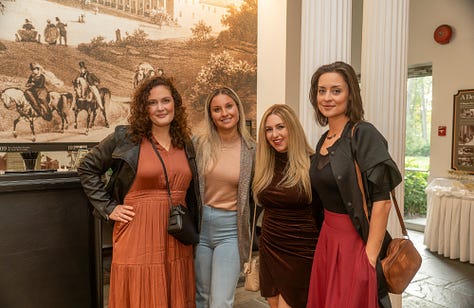 At 5:30pm sharp, swarms of ladies (and a few men) arrived at the Gideon Putnam where they were treated to a welcome prosecco and small bites provided by the historic hotel. In attendance were friends-of-the-mag Kim McConchie and Seana Moser, Bright Sighted Media owner Christine O'Donnell, Grit+Grace Salon owner Christine Galeo, news anchor Noel McClaren, Olympic rower Kristi Wagner, "The GLO Up" host Alec Lewis, and—of course—guest of honor Heather Thomson, a former Real Housewife of New York who has now made a name for herself in the health and wellness world.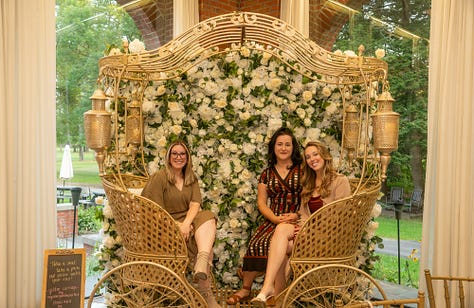 Guests mixed, mingled and posed for pictures in two photo op locations provided by Golden Garden Parties (owner Laiken Herrlett told me she's looking at opening an indoor space with Adirondack Balloon Co owner Elaine Shields to host indoor garden parties in the winter and when warm-weather events get rained out). After everyone arrived, BARE Blends owner Annie Berdar took the mic to announce the winner of her smoothie shop's newest flavor—Green Glow—as voted on by guests at a Dubois Beauty event held at Complexions earlier this summer. She then set out samples of the smoothie, which is made with mango, pineapple, kale, cucumber, lemon, lime, ginger, orange and a splash of soy milk. (The Green Glow smoothie is now available at all Capital Region BARE Blends locations.)
After everyone had mixed up their own Saratoga mineral facial mist with Complexions owner Denise Dubois, Heather took the stage to give a motivational speech inspiring attendees to take control of their wellness, both in terms of the things we put on and in our bodies and the people with whom we choose to surround ourselves. "We're all here because we care about ourselves," she said. "If you don't take care of your health, you're going to be spending a lot of time taking care of your illness."
Afterwards, Heather opened the floor for questions. After a few wellness-related ones, the conversation turned to RHONY. "Once a Housewife, always a Housewife," Heather said. "Holla!"
—Natalie
---
Vibe Check: Franklin Community Center's 40th Anniversary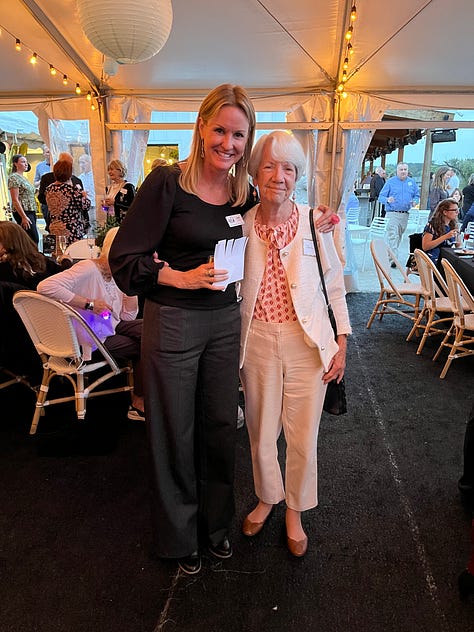 In his speech to the crowd at Thursday's Franklin Community Center fundraiser at 550 Waterfront on Thursday, philanthropist Michael Arpey applauded the tireless team that has been serving Saratoga's less fortunate for 40 years. "One of the things that really impresses me about the leadership at Franklin Community Center is that they're not content," he said. "They're not going to settle for what's here today. They're going to continue to grow. They're going to continue to meet the need."
That need is striking; last month, Franklin's food bank served 1,000 people. That's 360 families—a number that's up 30 percent over last year. The nonprofit's Project Lift program serves 150 students, and yet there is a waiting list of another 150.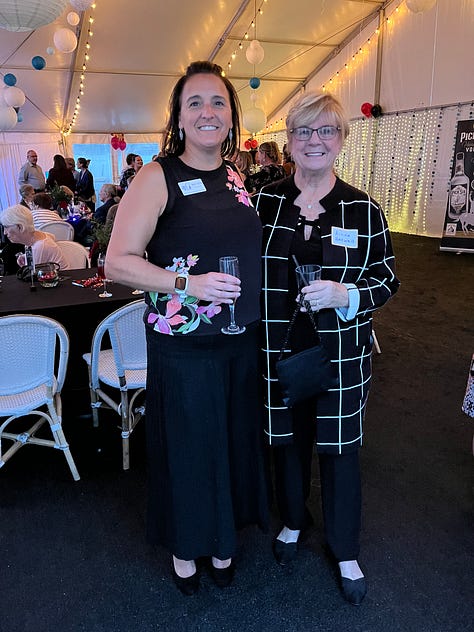 The good news? The line of Saratogians who came out to support Franklin Community Center at its 40th anniversary celebration was out the door. Some notable attendees: Heather and Brian Straughter, Gary and Aimee Dake, Evan and Mara DeJonghe, Zack and Devin Manz, Tom Roohan, Bo Goliber, Dave Collins, Deann Devitt, Darryl Leggieri, Amy Bloom, Mayor Ron Kim, and Benita Zahn, who asked me if I was stoned while observing the Congress Park ducks for four days straight. (I, unfortunately, was not.) Michael also gave a shoutout to attendees Kevin O'Brien and Sister Charla Commins, who were instrumental in the founding of Franklin Community Center 40 years ago. Lesser known but certainly entertaining was Medicare insurance agent Maureen Hallaran, who regaled me with tales of kilt parties and European travels and recommended the ultimate date night (Panza's, for pumpkin cheesecake and the Sunday night Sinatra and Friends show).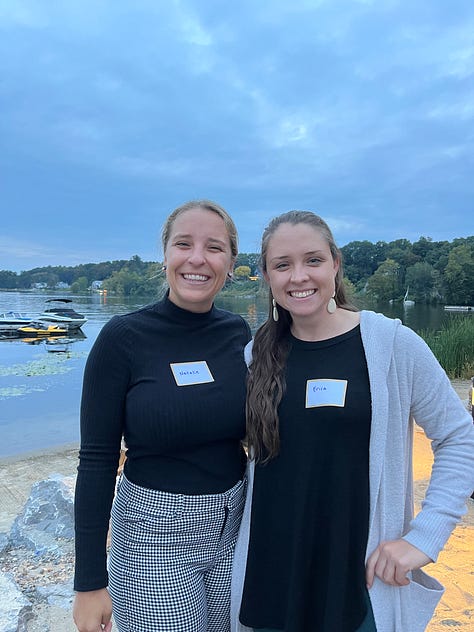 After Franklin Community Center staff passed glasses of Champagne around the room, Michael concluded his speech. "This is going to be a strange toast," he said. "I hope we can close the doors of Franklin Community Center. I hope that in the not-too-distant future, no one needs a Franklin Community Center. But in the meantime, let's do all we can to support them and allow them to make a difference."
—Natalie
---
Quote of the Week
"I had to use WD-40 to glue the bottom of my shoe back on."
—Overheard in the Bailey's Bathroom
---
Wine O'Clock
Just because Bocage is a Champagne bar, that doesn't mean it wanted to be left out of Oktoberfest—enter Pet-Nat Fest, which kicks off tomorrow, October 1, and runs through Halloween. For the uninitiated, "pet-nat" stands for pétillant naturel, is an old method of making sparkling wine, and made a comeback in recent years due to consumers craving "natural" everything, including wine. Because pet-nat is bottled before fermentation has ended, these wines are often hazy. Top it off with a crown cap instead of cork, and they are downright beer-like. There are so many kinds of pet-nats—to encourage you to try them all, Bocage is offering a punch card all month long. Drink nine $10 pet-nats from a rotating list of 12, and get one free. You'll also be entered to win some fun Bocage Pet-Nat Fest swag. 
---
Close Encounters of the Celebrity Kind
Earlier this week, The Saratoga Report's Dan De Federicis posted a photo of actor Richard Kind (Curb Your Enthusiasm, East New York, Spin City) in the What's Going On Saratoga Facebook group, mentioning that his neighbor had seen him in Saratoga. Dan's neighbor wasn't the only one, as group members commented on the photo mentioning their encounters—at Skidmore College, Burger Fi and walking along Broadway.
---
Market Report
For those who don't follow what was once PDT Market on Instagram, know this: Things at the gourmet grocery store are a-changin'. This week, shortly after announcing the PDT founder Adam Foti would be stepping away from the business, ownership (the Martels of the Druthers empire) has rebranded the market as Franklin Square Market. Along with the rebrand comes some changes customers have been wanting, including more affordable options and practical, everyday necessities. And, yep, a hot dog and brat bar. The team was so eager to make the change, that Druthers CEO Chris Martel was seen stocking shelves. When Saratoga Living's own Terese Russell asked for peppadew peppers on her sandwich at the deli, the man behind the counter replied: "All that fancy sh** is gone." Don't worry—the bar is still there.
---
Save the Date
Singles night is back, and we want you to come mingle! Join us for Single in Saratoga: Cuffing Season Edition on Wednesday, October 11 from 7-9:30pm at Bailey's. The evening will feature signature Deep Eddy Crush cocktails, samples from One With Life Tequila, beer pong and our fan-favorite match-making game! As always, singles of all ages and sexual orientations are welcome, as are wingmen and women. Get your tickets here.
---
From the Mag
#TBT: Local Legend Hattie Moseley Austin
MVP: RJ Burtt Is Saratoga's Late-Shift Hero