Discover more from Saratoga Living After Hours
What happens in Saratoga—well, you know the rest.
Over 2,000 subscribers
Ride Along: Saratoga Polo School
SLAH's Natalie Moore is schooled in one of the world's most dangerous sports and asks: Will polo make a comeback here? PLUS: The Riggi mansion is sold, celebs in Saratoga and more.
Spoiler alert: I'm a horse girl now.
It was probably inevitable—I've dedicated the entirety of my professional career to coverage of a horse town. But it took my friend Seana Moser urging me to visit what she describes as an idyllic farm in the Stillwater hills, where everyone is treated like family, to really seal the deal.
Upon turning into Saratoga Polo School (oh, did I mention I'm not just a horse girl but a polo girl?) I found a Golden Retriever lounging in the middle of the driveway, a gaggle of horses swinging their tails in this week's unseasonable heat, and SPS owner and founder Mario Dino waving to me as if we were old friends. I got out of my car and Mario immediately put a bug net over my head while manager Shannon Hildebrandt shuffled around the barn looking for a pair of riding boots for me to borrow.
"Do you write?" Mario asked me. (Or at least I thought that's what he asked me in his Argentinian accent.)
"Do I write?" I said. "Yes, I write."
"No. Do you ride."
"OH! No, not at all." (*face-palm*)
A professional polo player himself, Mario began teaching lessons through Saratoga Polo School in 2010, but it wasn't until 2020—around the time the now-defunct Saratoga Polo in Greenfield Center was breathing its last breaths—that he purchased the Stillwater farm that now houses his operation. A month later, the country shut down, and it wasn't until after the pandemic that SPS really reached its full potential. Now, the school offers private and group lessons, birthday parties and corporate team-building functions, a summer camp, and a polo club that allows players who have mastered the sport's fundamentals to compete in games and tournaments against other regional clubs. The SPS motto? Come for the polo; stay for the people.
One of those people is instructor Jean Marie Turon, another Argentinian who, while he was saddling up my horse, told me he's happy to have spent the summer in Saratoga instead of in his home country where it's winter and where a divisive presidential election is currently underway. I ditched my notebook, grabbed the reins and surrendered to whatever was about to happen.
Apparently, when learning how to play polo, it's better if you've never ridden a horse, because then you don't have to un-learn anything. Before I knew it, I was steering Fila (like the shoe, not the street) all around the polo arena, a large, fenced-in area where teams of three play a modified version of the sport with a larger, inflatable ball. (Traditionally, polo is played on a field that's more than nine times the size of a football field and with a smaller plastic or wooden ball.)
While we rode, Jean Marie explained the rules of polo—the game is divided into periods called chukkers, you can't cut in front of people and instead have to bump the side of their horse with the side of your horse, and you can hook another player's mallet with your own as long as he or she is in the process of swinging. He taught me that I should imagine that my legs are part of the horse, and that my arm is an extension of the mallet. And he told me that while I was making good contact with the ball for a beginner, in an actual match professional players hit the ball while their horse is running some 35 miles per hour—about the speed Thoroughbreds race on the track—and while other players are bumping into them. So that was humbling.
At one point Jean Marie mentioned the Argentine Open, the biggest polo tournament in the world.
"Is polo more popular in South America?" I asked.
"Polo's not really super popular anywhere," he said, laughing.
With the team Mario has procured and the community he's building around the sport in this area, that may not be the case for long. Saratoga has rallied behind polo in the past—will the sport make a comeback both in terms of spectatorship and number of players? If word gets out about Stillwater's best kept secret, it very well might.
—Natalie
---
Quote of the Week
"I'm pretty sure calories don't count on Caroline Street."
—Overheard at Esperanto
---
Deli Dreams
Track season is always a time when Saratogians have a greater chance of spotting a celebrity in town; this year, the Osteria Danny team got a treat when MLB big shot and former New York Yankees Manager Joe Torre stopped in for dinner. But even after track season, there's a chance we commoners will run into a star, like yesterday, when musician John Oates of the duo Hall & Oates stopped by Fat Paulie's Delicatessen before his sold-out benefit concert at Therapeutic Horses of Saratoga. Fat Paulie's owner Jason Friedman's Instagram caption? "Oates, you make my dreams come true."
---
Sold!
After a year on the market, the Riggi mansion on North Broadway finally has a buyer. Last night, the house went to a private auction that qualified bidders were required to pledge $100,000 to sit in on. (That money was returned if they didn't buy the property, and went toward the purchase of the house if they did.) By the end of the evening, the 25,000-square-foot home had a new owner. "The buyer is a local couple," says Margie Philo, a broker with Berkshire Hathaway Adirondack Premier Properties. "There were a total of 11 bidders registered. It was exciting and we are thrilled. Michele Riggi met after the auction with the buyers and we all toasted [with] Champagne. Michele is very happy to pass her home to such a wonderful couple." 
---
Track Changes
For the past few months, a rumor has been swirling that the New York Racing Association would potentially run the next two Belmont Stakes at Saratoga because of renovations going on at the Elmont, NY track. That rumor became more than a rumor this week, when NYRA President David O'Rourke told the Daily Racing Form "If things go according to how we're planning, right now that is the plan." He went on to say that if NYRA didn't get state approvals, or if something were to happen beyond their control, the third leg of the Triple Crown could be held at Belmont in 2024.
According to DRF, "A Belmont Stakes at Saratoga would likely mean the race will be run at 1 1/4 miles, not 1 1/2 miles" because "starting a 1 1/2-mile race in the middle of the far turn is not something NYRA wants to do." A change like that wouldn't be unprecedented; in 2020, the Belmont was run at 1 1/8 miles and was the first leg of that year's Triple Crown, instead of the third.
It's still unclear how long racing would be held at Saratoga prior to the Belmont Stakes, but the plan is for racing to return to Aqueduct before the traditional start of the Saratoga meet in mid-July.
---
After the Storm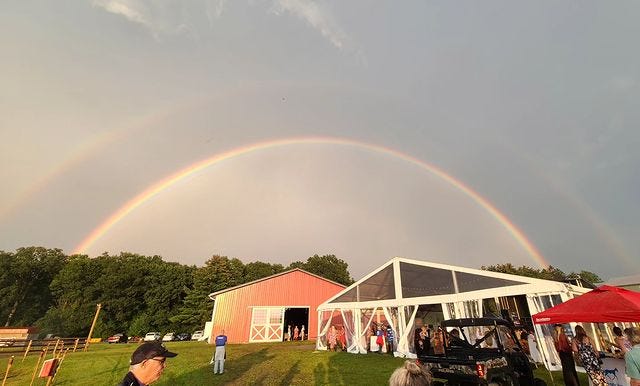 Following last night's scattered thunderstorms, a giant rainbow could be seen throughout much of the Saratoga region. (The photo above was taken at the John Oates fundraiser at Therapeutic Horses of Saratoga.) What was at the end of the rainbow? We can actually answer that:
---
Save the Date
This upcoming Thursday, you'll have to make a choice: To go to the Community Foundation for the Greater Capital Region's Raise the Region celebration, or Saratoga PLAN's PLAN for the Future fundraising dinner. (The good news? There's no wrong choice.) The Raise the Region event is going on at Prime at Saratoga National from 5-7:30pm, and will honor community leaders Jim Gold and Jahkeen Hoke. PLAN for the Future is 6-9pm at Middle Grove's Camp Stomping Ground, and will feature an open-fire cooking experience by Farm to Fire.
---
From the Mag
This week, the Saratoga Living team released our first-ever food and drink issue, featuring Hamlet & Ghost chef Alex Lempka on the cover. Head to saratogaliving.com to read our story on the Alex and partner in crime/bar manager Gerry Akins, plus our essay on the state of Saratoga's food scene, our comprehensive guide to dining and drinking in the Spa City, and more.